Ensure provides consultancy and training primarily on the two pieces of legislation which affect machinery, the Machinery Directive and the Use of Work Equipment Directive, known in the UK as PUWER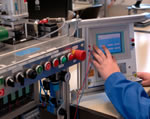 Machinery Directive
Directive: 2006/42/EC
UK Regulations: Supply of Machinery (Safety) Regulations 2008
Implementation
The legislation in its first form (89/392/EEC) has been in force since 1st January 1993, but was amended in 1992, 1994 and restructured as 98/37EC in 1998. 98/37/EC was replaced by 2006/42/EC on 31st December 2009.
Scope
This legislation applies to manufacturers and suppliers of the following equipment:
Interchangeable equipment

Pesticide application equipment
Consultancy issues
Definition of an assembly of machines

Application to second-hand machines imported into Europe

Integrity of safety control systems and components

Application to machines made exclusively for use by the manufacturer

Use of Declaration of Incorporation

Relationship to European standards
Use of Work Equipment Directive
Directive:

2009/104/EC
UK Regulations:

Provision and Use of Work Equipment Regulations 1992, amended in 1998 and 2002. Widely referred to as PUWER
Implementation
The legislation has been in force since 1st January 1993, but initially only applied to new equipment. Employers were required to bring existing equipment up to the required standard of safety before 31st December 1997. The legislation has been implemented slightly differently in each European country.
Scope
This legislation applies to all employers who provide equipment for their employees to use and sets out minimum safety requirements for work equipment.
Consultancy issues
Application to new machines

Application to machines made before 1993

Integrity of safety control systems and components

Application to machines made exclusively for use by the manufacturer

Equipment purchasing policies

Relationship to European standards